EEEEE
I placed an order with the Sheep Shed today! ^^
1 lb of superwash/nylon sock roving and 1 lb of their brown tones rovings. All the roving are Brown Sheep Mill Ends.. I can't wait til it gets here. :D I'm a little nervous to see how much 2 lbs is though... when i order 4 oz it seems like a lot! lol
The sock stuff is all white though so I get to try dyeing. :D Squee. And depending on what the brown and white stuff looks like, I might dye some of that too...
ohhh.. I forgot to post.. here's the lovely rovings I got from
Abby's Yarns
... so soft and gorgeous! I've already started spinning the yellow and I looove the way it's looking. :D
Yellow - Lemon Spice 100% merino 2.7 oz
Green/Pink - Roses 100% merino 3 oz
Red/Purple - Raspberry 100% domestic wool 4 oz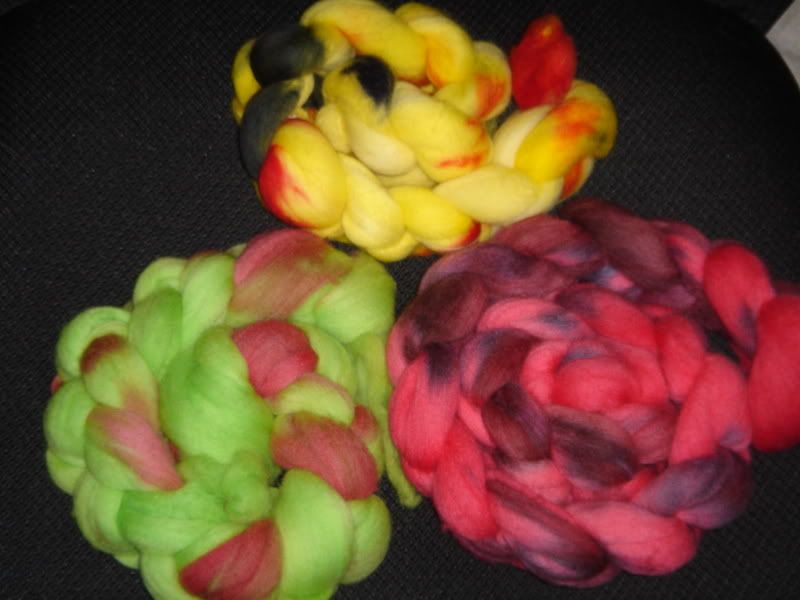 I also spun up half of the Poison roving from Spunky Eclectic.. and I'll admit I was a bit disappointed with it. Not with the way it was spun.. but still with the colors..
I can't help it.. I ordered it expecting something bright blue and bright green.. and got something that was bright green, a weird purple, and a whole lot of white. *sigh* It is a pretty colorway.. but because it's not what I wanted, I don't like it. I thought that maybe whe I spun it up, I would like it more.. but I don't. Oh well.
GloStick 135 yds 12 wpi 2 ply