Whee!
My first order from Spunky Eclectic arrived the other day! I say first, because I'm already plotting on buying more as soon as I get my next paycheck. Of course. ;)

I must admit, I was a little disappointed for the first few minutes after I pulled it out of the box and began to inspect my prize.

The colors on both my orders were not what I had expected at all based on the photos that were on the site. Buyer beware I suppose. I know that the photos are a close up of a portion of the rovings after they are dyed, but I still figured they'd be a little closer... it doesn't help that I was in a fairly bad mood when I opened the package either... ><

I ordered 4 oz of wool blend in the hibiscus colorway...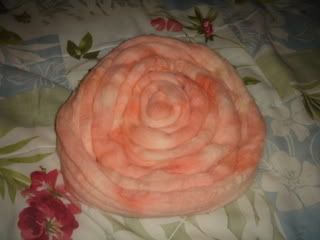 That picture is defintiely not the best representation of the true color.. indoors, poor lighting.. flash.. ugh
Anyways.. I expected it to be more.. pink.. not peachy as it seemed to be.. and I really expected there to be more white. I decided to spin a little up to see how it was.. and I did a 180. It's one of the almost solid series, so it's supposed to be tonal in color.. and after I drafted and started spinning, I could start to see that. There was more white and darker areas hidden in the compacted roving. So ok! Happy with this one!
And here we have 4 oz of wool blend in the poison colorway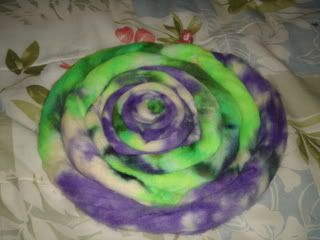 Now.. again, not a good representation of true colors there... I had expected this one to be bright electric blue and neon green .No white. That's what the picture looked like.. why would I expect something else? The green is defintely that bright green I thought it would be.. but the blue... Is almost purpley.. and defintiely NOT the electric blue I was expecting. And I didnt think there would be white anywhere in the roving. Ah well. It's still very pretty. I can't wait to spin it and see what it turns out like.. I was just expecting something completely different is all...
Also, both my rovings had teeny bits of other colors on them.. like they maybe bled on each other? Maybe they weren't 100% rinsed or dried or something.. no biggie.. I'v ebeen picking out the pieces as I find them. Just another thing ot annoy me, But again.. bad day and all.. *points to 2 posts ago* I still want to order more fiber from there.. I figure I'll ask for each colorway sto be in it's own baggie...